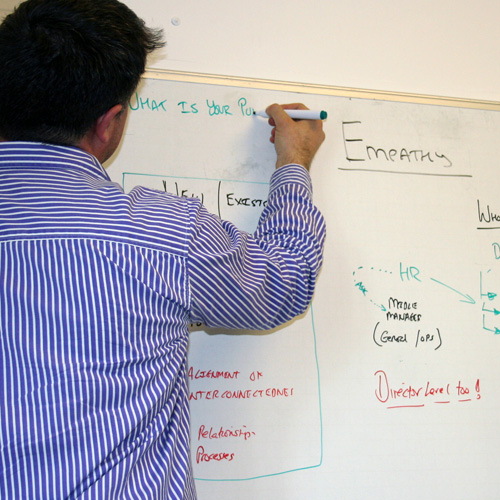 Tricordant is a whole systems consultancy working across all types of complex organisation. Their mission is to enable people to work to their full potential, through the creation of whole work within healthy, sustainable and effective organisations. Ooba first worked with Tricordant in 2014 on a project for the NHS and we were very honoured when they asked us to pitch for this creative work.
The initial challenge was a graphic design one but, rather rapidly, it became apparent that this was a communications challenge on a higher level.
Organisational Design and Development can be complex. And yet Tricordant's methodology is based on some simple, core beliefs and models. The problem to solve was how to explain these concepts to the clients of Tricordant as rapidly (but as deeply) as possible in the workshops that Tricordant run.
We were very grateful to have Simon Thane and Nick Richmond spend a day with us repeatedly explaining the range of tools, concepts and beliefs that they use to execute their work until we 'got' the whole overlapping picture.
So, we ran a loose Design Thinking session to empathise with the situation, define the real challenge ahead and ideate some ideas around what was required.
Overall, it was hailed as a massive success and we're looking forward to providing some design solutions to prototype so that Tricordant can test the concepts with their clients... and complete the Design Thinking process.
Great day with @OobaCreative wow, they know their design thinking, really pushed us to be clear on our #orgdesign narrative and concepts

— Nick Richmond (@NickGMRichmond) May 12, 2016