Who is this course for?
Maybe you have already started but you haven't had any business experience before - or realised that this 'running a business' business can be a bit trickier than expected.
Or, you're contemplating starting a business, but it all feels daunting.
Where to start? What to sell? How to sell it? For how much? And what about marketing? And money?
Like anything new, it often feels harder to master in the early days but, as things become clearer, it's amazing how simple those new things become. And we're here to help make that happen for you.
(Also, if you haven't done the free £1m Formula course already, then it's a great introduction to the world of money and business.)
What you'll get from this course?
This course is designed to help you on three levels - the mindset, the concepts and the practicals.
The Mindset
We've taught this course to hundreds of people who want to make the leap into running their own business.
Many people know that starting their own business could, if it goes wrong, cause more problems than it's worth. You've probably heard the horror stories about how many businesses fail. So, the main challenge a lot of people havel, is getting their head around the big step in life that they are about to take. It can be over-whelming when you really think it through.
We're here to give you the insights, mindset and reassurance that you've got this! It's not as complex as many people worry about. We're here to help every step of the way and we have our free Facebook Group where people can ask us questions at any time.
We go out of our way to provide you with the support and insight to help you on this exciting journey.
The Concepts
One way to get more confident and empowered, is to learn about this new landscape you are going to travel through. So, we break it all down for you. We explain the concepts of business and marketing that you need - and how it all joins up beautifully. We give you a high-level map of what's needed, and a broader view of all the interconnecting jigsaw pieces.
This is a reassuring map of the world you are about to embark into.
The Practicals
Hands on, practical lessons and things to complete. Exercises, worksheets, checklists, action-plans, examples and anecdotes will help you master what you need to know in order to launch your business.
By the end of the course, you will have a hands-on, practical action plan with a step-by-step roadmap of what you need to do. If you're not sure, you can always ask in our free Facebook Group. Or message us directly.
It's a hugely powerful course.
What's covered in the course?
This is a full-fat, big course. Luckily, it's structured well. We always say, "You Trade. You learn". So, the key thing is to get started. You can watch through the course videos and then go back over the details if you need them.
Here's an overview of the main course sections:
Introduction to Business: Giving you a big picture view of the journey ahead.
Mental Preparation: Your approach, mindset and how to keep moving forward. (It's simpler than you may think!).
The Ooba "Micro Business Canvas": A simple model to help start mapping your business.
The Tech Stack: How to use free technologies to get things done and manage your business.
Scenario Play Prices: A fun but crucial process to see how your price impacts your business and marketing activity.
Marketing: A bit of theory and a solid introduction.
Marketing: More advanced insights. I share strategies and approaches I learned from 10 years of working at marketing/advertising agencies that actually work and anyone can do!
Marketing Materials: What you need in order to launch and how to get them done at low cost. e.g. biz cards, website, facebook page, brochures, leaflets etc.
Action Planning: Step by step launch plan. What you need to do, in what order, and when.
Wrap up and Launch: You've got this! Now go for it.
How does it differ from the Ooba 'Marketing Mastery' and 'SIx Figures & Beyond' courses?
As with a lot of how we learn, we do things in an incremental, 'layer-by-layer' approach. We cover a lot of business and marketing within "Zero to Hero – Biz Launch Startup" so that you can launch and get trading properly. However, the Marketing Mastery course takes you to the next level of growth - enabling you to utilise the power of marketing with a completely new ability.
The 'Six Figures & Beyond' course covers a whole raft of additional things that you probably don't need quite yet. For example, additional finance, hiring staff, creating culture, and taking your business to over £100,000 turnover - and maybe up to £250,000 or even £500,000.
Our "Ultimate Business Success" course is for thriving businesses who want to take things to £1m turnover and beyond.
How much is the course?
You're just starting out. We get it. Funds are tight.
This course in only £90.00 (including VAT). It's the absolute lowest we could go commercially, to bring this course to as many people as possible. Hopefully, it is a no brainer price. Hopefully, you're thinking, "What? Only £90.00 for all that? - that's amazing!".
We think so.
It is heavily subsidised by our other business income and has been a labour of love to put together for you. So, please do sign up today!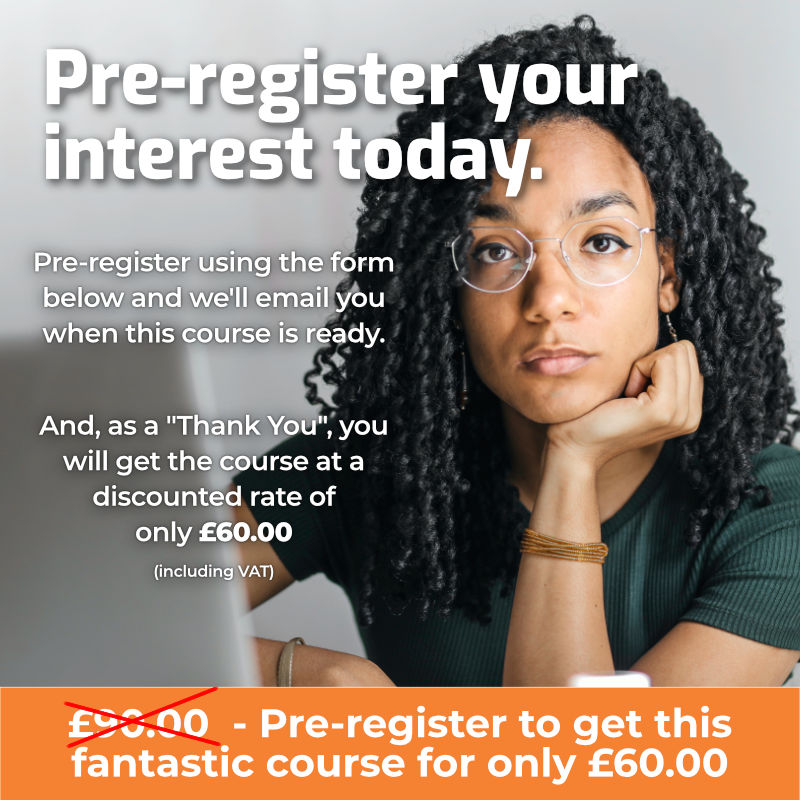 How do you take the course?
This course will be available soon. Complete the form below to register your interest.
Some nice things people say...
"I found your session really helpful and thought the fact you set the scene for what marketing used to be really powerful, and put a lot into perspective and context."
Keisha
"@OobaCreative you love what you do Adam as you share your talents with others. Your Marketing Mastery was amazing. Doing it again thx!"
Amma'Ledisi
"This course equipped me with knowledge and key learning points, most importantly the confidence to proceed with my project . What is a complicated subject was simplified and delivered in a collaborative way by Adam. He imparted gems of information, which have often been missed by other courses. Adam was both motivational and inspiring, and has provided guidance on structure, content, and invaluable quick wins on the marketing side."
Navtej