---
OobaClub is for people who want help with their business and marketing (and technology) to help each other as part of a community and to have greater access to me directly.
The free tier is just that, 100% free. Simply join on Facebook and start engaging. I will be in the group answering questions and posting useful info – and once a week, we do our Questions & Answers sessions as well as a weekly free training webinar.
There is also a completely free "Bare Essentials" course that gives you all the basic information, skills and tools you need to get your business started. It goes hand-in-hand with our "Zero To Hero Business Launch" - which is available online or as an 8 week Zoom course. Both can be found on our website.
So, the free Ooba Club Facebook group is open to anyone who is looking to set up – or who is running a micro-business (that's under £250,000 turnover).
In a few months, we'll be launching our paid-for Ooba Club "Plus" membership which will provide those of you who need additional, more 1-to-1 support with an extra level of help and training.
So, head over to Facebook, to join the free group. You must complete the Group Questions and tick the box to say you accept the group rules.
Join Ooba Club today – there's nothing to lose by starting right away. I look forward to helping you with your business and marketing journey.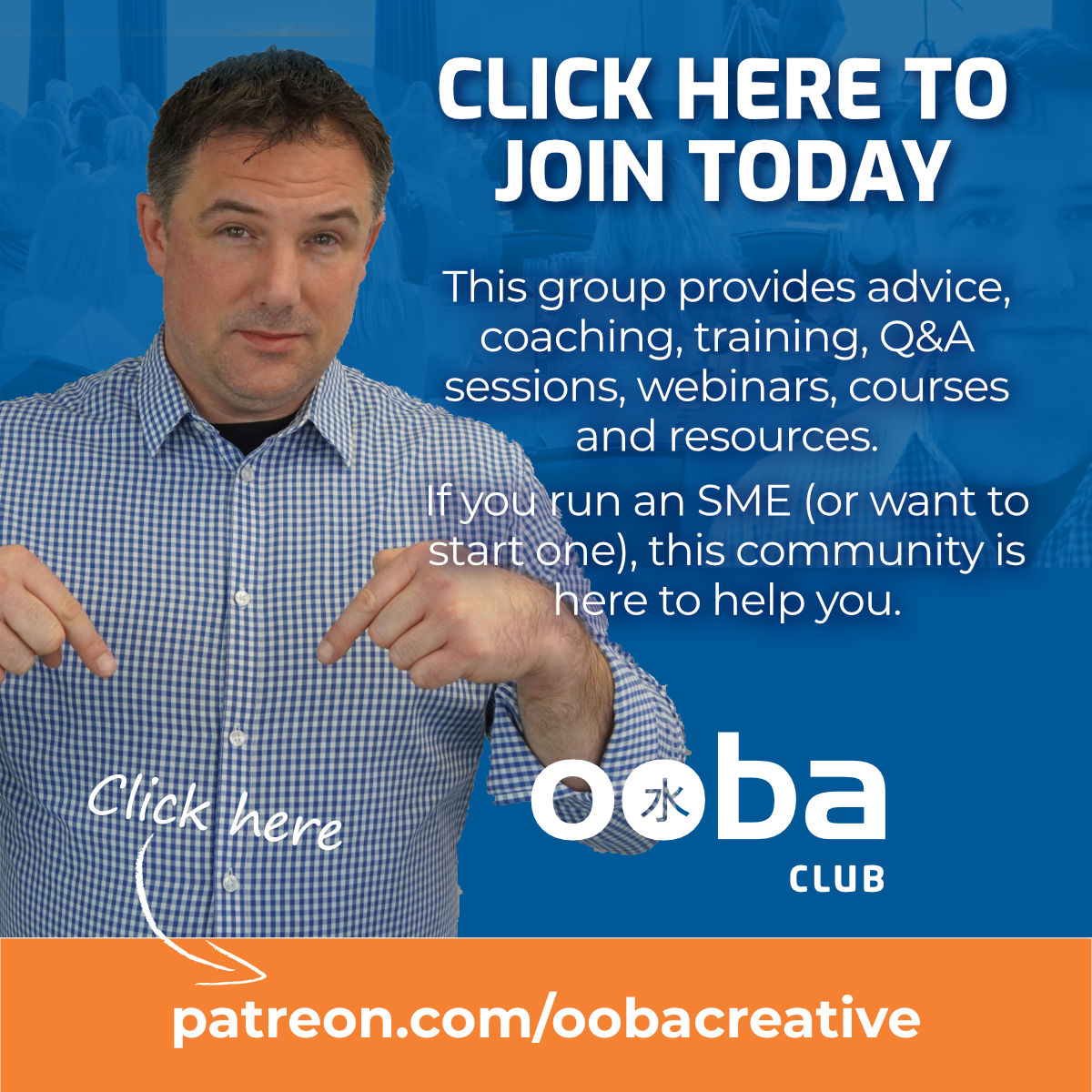 ---
Access to Free Facebook Support Group
Exclusive help/support content
Free, live, weekly "Business & Marketing Q&A"
Access to Free weekly webinars
Access to free & paid courses
Access to free & paid resources/downloads
Access to 'Members Only' Facebook group
Additional 'Member Only' Q&A Sessions
20% off voucher to spend on all courses.
20% off voucher to spend on all products.
Priority access to 30 day & 90 day planning workshops
Daily email insights, tips & tricks
100% Personal/Individual Support & Advice
Direct Email & Live Chat Support
2 x '1h video mentoring/training calls' per month
Free access to 30 day & 90 day planning workshops
£120/month
£60/month
(inc. VAT)
---
£60/month (inc VAT) OobaClub Plus Membership is only available to the first 20 members. Price will increase to £120/month (inc VAT) after that.
So that we can dedicate ourselves properly to our members, we have capped quotas at 40 for OobaClub Plus Members and only 5 clients for our '1-to-1' service. Join now to avoid disappointment. All prices are 'per month' and include UK VAT. All chat/email communication will be Monday-Friday during office hours.